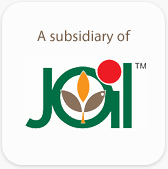 PT Monfori Nusantara is a Jakarta-based plant tissue culture company. PT Monfori Nusantara was founded by Monsanto Co. USA and the Australian based biotechnology company, ForBio Ltd. in 1996 for undertaking forestry crops, especially teak.

In 1997, PT Monfori Nusantara established the first and largest tissue culture facility in Indonesia, located 80 kilometers south of Jakarta near city of Bogor. This facility was built on a total land area of 3 hectares of which 1,550 m2 represents laboratory production area and 10,000 m2 greenhouse. When it was built, the plant facility was regarded as South East Asia's most advanced tissue culture facility. The plant facility began its operation in 1998 with the production of elite Eucalyptus, Acacia and Teak plantlets.

In 2002, PT Monfori Nusantara was acquired by a group of local investors and started to expand its expertise in supplying floriculture planting materials. Year by year, PT Monfori has successfully built strong image and credibility as a seedling supplier for the floriculture industry in Holland, Australia, USA and England.

PT Monfori Nusantara is currently a subsidiary of JOil (S) Pte Ltd following the acquisition by JOil in 2011. Headquartered in Singapore, JOil is engaged in Jatropha plant biotechnology including breeding, agronomy research, production, marketing of elite Jatropha seedlings as well as advisory service for commercial cultivation.

At Monfori, we strive to become a leading tissue culture enterprise in Asia by creating value for our customers and employees.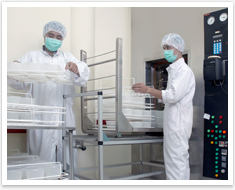 World class tissue culture facility
Located at 3 hectares land in Bogor (80 km south of Jakarta)
Capability of producing 20 million seedlings per annum
Regarded as South East Asia's most advanced tissue culture facility when it was built
Our media dispensing, plant inoculation and incubation operations are conducted under ultra-clean environment (AS1386 Class 350)


High product quality tissue culture facility
PT Monfori Nusantara is the first tissue culture company from Indonesia and one of very few tissue culture companies in Asia which has been approved by Australian Quarantine and Inspection Service (AQIS) as accredited sources of tissue culture plants free of media (low-medium risk).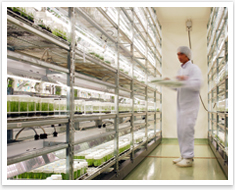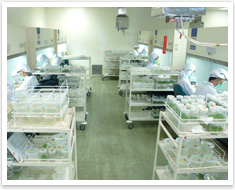 Strong research in mass propagation technique
Inventor of 3 media protocols for forestry species (Teak, Acacia & Eucalyptus)
Inventor of 18 media protocols for floriculture/ ornamental plants
Initiator of 12 new varieties of floriculture plants into sterile media, propagate and ready to sell for
domestic and export market
Established distribution network and market relationships
Monfori Flora (a division of PT Monfori Nusantara) has gained credibility from International Clienteles
Our international markets network covers Australia and the Europe.
Present customers include Majestic Selection Pte. Ltd., Schreurs Holland B.V. and Hervey Bay Nursery
Previous customers include Florist Holland B.V., Plant Marketing International Ltd, and Special Government.Projects in Indonesia (Gerakan Nasional Reboisasi Hutan dan Lahan 2003, 2004, 2005)
Established relationship with customers - 'quality' image with international customers
Awarded "2008 Primaniyarta Award" by BPEN (National Agency for Export Development), as The Emerging Exporter Company